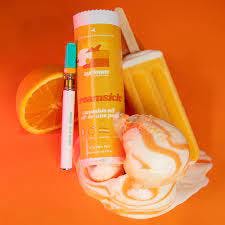 Brand: ayrloom
Ayrloom | Orange Creamsicle Cartridge | 1g
Orange and cream like a midsummer night's dream. Decadent vanilla and tangy orange team up to bring you creamsicle.
Effects
CalmHappyRelaxedEnergetic
View Product Testing Data
Limonene
0%
Limonene
0%
Limonene is found in citrus rinds and is the second most commonly occurring terpene in nature. This terpene has been used in high dosages as a catalyst in topical products to allow other chemical compounds to pass through the skin for absorption in the blood.
Aromas
CitrusLemonHerbal
Potential Health Benefits
Cancer FightingAnti-anxietyAnti-depressionStress ReliefBrain FunctionGastrointestinalAnti-inflammatory
About the brand :
ayrloom
From the family that brought you Beak & Skiff & 1911 Established, ayrloom™ showcases the fifth generation's commitment to quality, innovation and sustaining over 1,000 acres of land in upstate New York. 110+ years of agricultural experience coupled with a passion for cannabis results in products that would make their great-great grandfathers proud. The team at ayrloom™ offers a full line of products to incorporate into daily routines, and they invite you to ADJUST YOUR ALTITUDE with them.