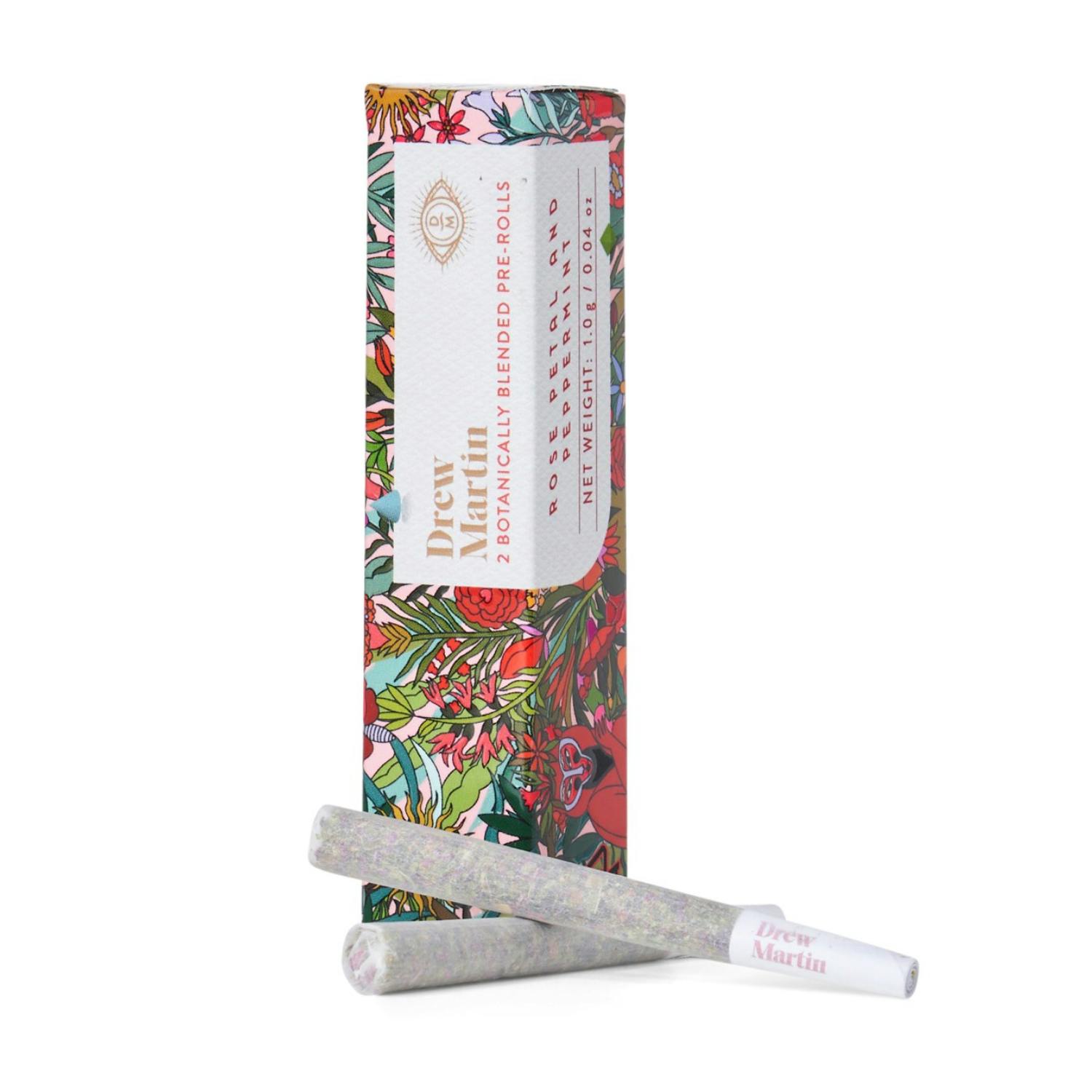 Brand: Drew Martin
Be Open | Hybrid + Rose Petal 2-Pack (1.0g)
The gentle aroma of rose petals envelops you, clearing your mind. A refreshing tingle of peppermint swirls around the hybrid cannabis cultivar leaving you feeling balanced and more open to the world around you. You exhale, "Be open." • Hybrid Cannabis for a balanced high • Sun & Earth certified cannabis from the Emerald Triangle • Roses harvested and sun-dried by a women-owned co-op in India • Sessionably dosed— a smoother smoke and a gentler effect Cultivar: Orange Valley Sun (Zkittles x (SFV OG x Black Dog)) a smooth and sweet hybrid strain featuring a terpene profile of pinene, myrcene, and humulene. This curated blend of cannabis and botanicals was formulated by Drew Martin, an award-winning mixologist and herbalist, to harness the power of plants through cannabinoids, terpenes, and botanicals.
Effects
Clear MindInspiredUplifted
View Product Testing Data
Pinene
%
Pinene
%
Pinene is a bicyclic monoterpene chemical compound. There are two structural isomers of pinene found in nature: α-pinene and β-pinene. It's most commonly recognized in nature as the fresh pine scent given off by trees in a living forest.

alpha-Pinene lends it's name to it's easily recognized signature scent, that of pine trees. alpha-Pinene is already being used in plants to limit the growth of undesired bacteria as it is the most commonly found terpene in nature. Many users report a boost of energy or brain function when consuming a cannabis product high in Alpha-pinene.

beta- Pinene is a monoterpene and one of the two isomer compounds that make up Pinene. This terpene is commonly associated with use in turpentine and luxury goods like perfumes and colognes. Users report an increase in mental clarity and executive function when using strains high in beta- Pinene.
Aromas
Pine
Potential Health Benefits
Brain FunctionAnti-inflammatoryCancer FightingPain ReliefRespiratory Function
About the brand :
Drew Martin
A curated blend of sun-grown cannabis and globally inspired botanicals, Drew Martin created their pre-rolls to be shared among friends. They're expertly crafted to be unlike anything you've ever tasted and deliberately low dose so you're always in the room.
From overdue hangouts to everyday adventures, they're for any time you want to let loose and connect. It all comes down to doing what you enjoy with people you like. Here's to the good times – long may they roll.