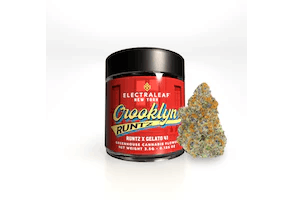 Brand: ElectraLeaf
Electraleaf | Crooklyn Runtz
AROMA
Fruity, sour citrus, skunky diesel aroma with chocolate-mint notes
FLAVOR
Sour citrus, sweet berries
EXPERIENCE
Provides a soothing effect and relaxes the body and mind
HYBRID-INDICA
Gelato 41 x Runtz
This fusion results in a captivating symphony of scents and effects, reminiscent of a stroll through an urban garden. Its fragrance carries fruity and sour citrus notes, laced with hints of skunky diesel and a touch of chocolate-mint. The flavor profile offers a delightful combination of sour citrus and sweet berry goodness. When indulged, Crooklyn Runtz provides a soothing and relaxing experience, gently calming both body and mind.
Effects
RelaxedSleepyHappy