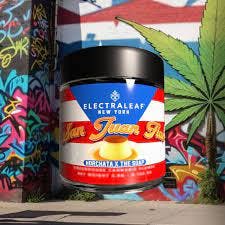 Brand: ElectraLeaf
Electraleaf | San Juan Flan
AROMA
Mint, pine and sour
FLAVOR
Creamy, caramel and floral
EXPERIENCE
Uplifting focus, feeling energized, and arousal
HYBRID-INDICA
Horchata x The soap
Harmonious blend of two exceptional strains. This hybrid combines the calming essence of Horchata with the focused energy of The Soap. With flavors ranging from earthy to minty, and effects that uplift and relax, it's perfect for socializing or unwinding. This unique strain offers a symphony of terpenes, including limonene and myrcene, promising a delightful experience.
Effects
RelaxedSleepyHappy