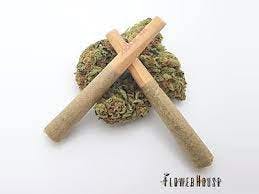 Brand: FlowerHouse
Flower House Jealousy Kush Mints 2pk
If Jealousy Mints had a motto it would be: Refresh, reset, rejuvenate. This sweet treat of a strain offers bright and uplifting head effects while the tension melts from every inch of your body. You'll feel as though you just left an aromatherapy massage as you inhale the minty flavor with notes of lemon and earth.
Feelings: Euphoric, Relaxed, Peaceful
Flavor: Mint Candy, Citrus, Sweet
Usage: Stress Relief, Bingewatching, Bubble Baths
Effects
EnergeticHappyCalmRelaxed
About the brand :
FlowerHouse
FlowerHouse New York brings together decades of cannabis expertise to a bucolic, 40-acre property on the Wallkill river. Our primary objective is the cultivation of premium smokable flowers grown naturally under the sun.