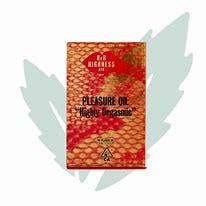 Brand: HER Highness
Her Highness Pleasure Oil
Make your romance novel fantasy a reality with a little help from Her Highness ultra-premium, hemp-derived Pleasure Oil. Not a lube, our Pleasure Oil is an orgasm intensifier, enhancing your climax with longer, stronger, more dispersive orgasms. CBD, a non-psychoactive compound found in cannabis, promotes muscle relaxation, formulated with a touch of Delta 8 for increased blood flow and "the love flower", a South American medicinal plant extract known for increasing salivation—AKA wetness. Put these botanical powerhouses together in a base of extra virgin olive oil, and you can guess what that means for your nether regions. We worked with a professional female herbalist to concoct the most powerful sex topical women can buy and tested it (many, many times) to make sure it's legit.
About the brand :
HER Highness
We are the premier purveyors of female forward Cannabis Couture – products and potions inspired and engineered by Women.
We design and deliver experiences that elevate and celebrate women. Her Highness products are thoughtfully and stylishly designed through the female lens. Working harmoniously with the female body. From highly coveted packaging, to striking the perfect balance of smart, sexy, and witty to describe each product and experience, Her Highness is your trusted girlfriend in cannabis.
Our products are made from premium materials that deliver a clean experience you can trust. We use naturally derived ingredients; never any parabens, sulfates, phthalates or aluminum.