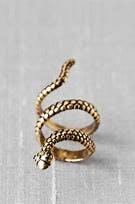 Brand: HER Highness
Her Highness Snakes In The Grass
For the most glamorous way to bake, slide your grass inside our snake. Animal attraction and supreme style, delivered to your finger by Her Highness. Snake in the Grass takes statement jewelry and form-follows-function to the next level. Not your fun aunt's roach clip, this 14k gold-plated cannabis jewelry wraps around your finger leaving you to smoke, talk, and linger without having to touch the joint. Place your pre-roll in the snake's mouth and this luxury smoking accessory holds it for you, leaving you to puff and pose in style. This joint holder is one size, somewhat adjustable, and comes in a satin lined box perfect for gifting to others or yourself. It's a snake! It's a ring! It's your new favorite thing…
About the brand :
HER Highness
We are the premier purveyors of female forward Cannabis Couture – products and potions inspired and engineered by Women.
We design and deliver experiences that elevate and celebrate women. Her Highness products are thoughtfully and stylishly designed through the female lens. Working harmoniously with the female body. From highly coveted packaging, to striking the perfect balance of smart, sexy, and witty to describe each product and experience, Her Highness is your trusted girlfriend in cannabis.
Our products are made from premium materials that deliver a clean experience you can trust. We use naturally derived ingredients; never any parabens, sulfates, phthalates or aluminum.