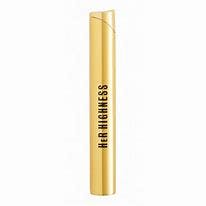 Brand: HER Highness
Her Highness The De Lighter
You deserve better than gas station sameness. Level up with our chic, slim, gold-plated De-Lighter and have a light for a lifetime. But before you set the world aflame, take note that you will need to fill it with butane (available at your local drugstore or hardware store). A little tender, loving care goes a long way.
About the brand :
HER Highness
We are the premier purveyors of female forward Cannabis Couture – products and potions inspired and engineered by Women.
We design and deliver experiences that elevate and celebrate women. Her Highness products are thoughtfully and stylishly designed through the female lens. Working harmoniously with the female body. From highly coveted packaging, to striking the perfect balance of smart, sexy, and witty to describe each product and experience, Her Highness is your trusted girlfriend in cannabis.
Our products are made from premium materials that deliver a clean experience you can trust. We use naturally derived ingredients; never any parabens, sulfates, phthalates or aluminum.