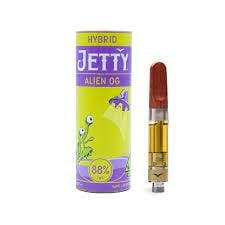 Brand: Jetty Extracts
Jetty | Alien OG
A Classic OG Kush, with that piney fuel taste OG smokers love. Not exactly couch lock, but not an overpowering euphoric high either. It's just right for any type of session.
Effects
CalmHappyRelaxedEnergetic
About the brand :
Jetty Extracts
Whatever—we love weed and we're really good at making extracts. We've learned a ton since we started Jetty in San Diego in 2013…but we haven't quite shaken that rebellious side. Sure, our logo and packaging got a little prettier so that we look good on store shelves. Hell, when dispensaries look more like Nordstrom than old school head shops, you better get with the times.