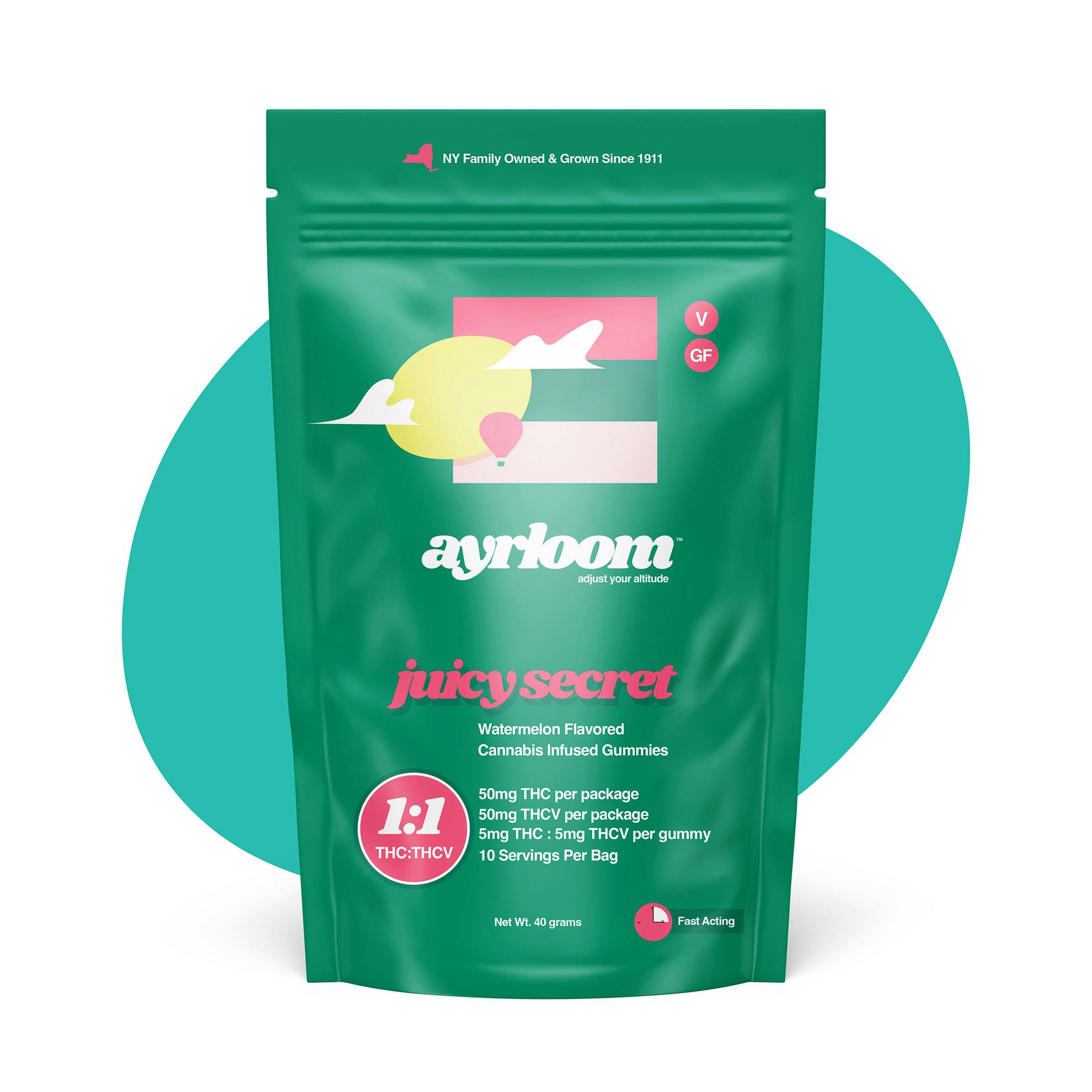 Brand: ayrloom
Juicy Secret Watermelon 2:1 (THC:THCV) gummies 100mg (10pk)
The sweet smells of summer, amped up with watermelon aromas riding in on cool waves of juicy secrets.
INGREDIENTS
TAPIOCA SYRUP, CANE SUGAR, PECTIN, NATURAL FLAVORS, CITRIC ACID, SODIUM CITRATE, CANNABIS EXTRACT, NATURAL COLORS (FROM FRUIT AND VEGETABLE EXTRACTS).
INSTRUCTIONS
TAKE 1 GUMMY AND WAIT AT LEAST 1 HOUR TO FEEL EFFECT BEFORE CONSUMING MORE. STORE IN A COOL, DRY PLACE.
Effects
HappyEnergeticCreativeUplifted
View Product Testing Data
THCV (Tetrahydrocannabivarin)
0
THCV (Tetrahydrocannabivarin)-0
THCV sets itself apart from its cousin THC with its distinct lack of psychoactive effects. THCV also acts as an allosteric modulator for Delta-9-THC thus reducing its psychoactivity. It has been found to be helpful as an appetite suppressant, neuroprotectant and glycemic control in type 2 diabetics.
"TAC" – Total Active Cannabinoids
50
"TAC" – Total Active Cannabinoids-50
Total active cannabinoids represent the total amount of active cannabinoids at the time of lab testing. This total of active cannabinoids considers all of the active compounds that the product holds.
About the brand :
ayrloom
From the family that brought you Beak & Skiff & 1911 Established, ayrloom™ showcases the fifth generation's commitment to quality, innovation and sustaining over 1,000 acres of land in upstate New York. 110+ years of agricultural experience coupled with a passion for cannabis results in products that would make their great-great grandfathers proud. The team at ayrloom™ offers a full line of products to incorporate into daily routines, and they invite you to ADJUST YOUR ALTITUDE with them.