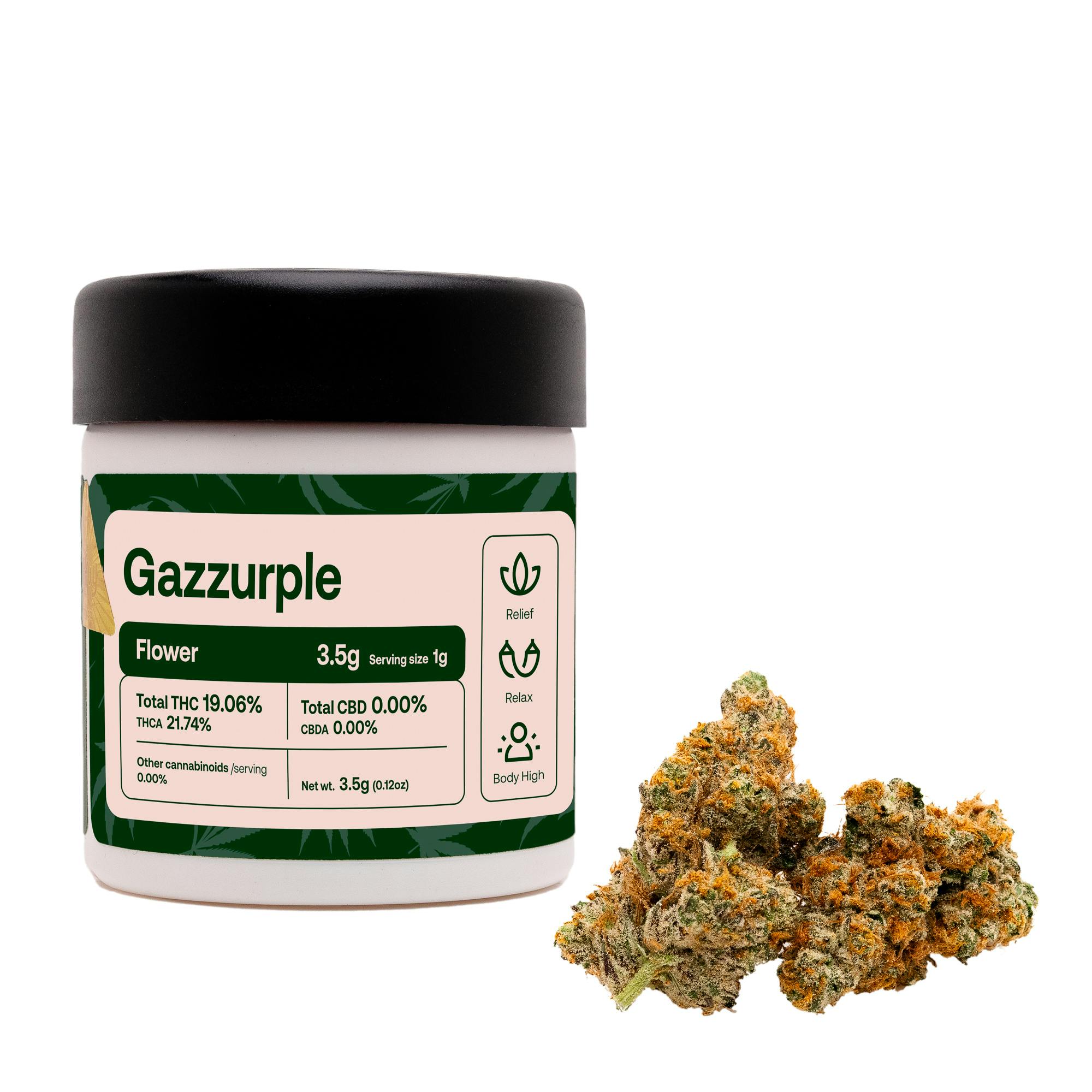 Brand: MFNY
MFNY | Gazzurple | 3.5
Expertly grown in climate-controlled greenhouses and harvested using techniques that maximize terpene preservation, MFNY is exicted to offer Gazzurple. This sativa-dominant hybrid strain was created by crossing Gazzurple Bx2, Poddy Mouth, and Macaroon — and stands out as a true original for its gorgeous appearance. The trichome covered buds will arouse your sense of smell with gaseous aromas of diesel and sweet tartness. As you taste the flavors of berries, cream, and that classic gas — Gazzurple will take you to a psychedelic, yet energized state. Lineage: "Gazzurple Bx2 x Poddy Mouth x Macaroon" Effects: "Energizing, Psychadelic" Main Terps: "Caryophyllene
Limonene Humulene"
Effects
EnergeticHappyCreativeFocusedInspired
View Product Testing Data
Caryophyllene
0%
Caryophyllene
0%
Caryophyllene, or more specifically Beta-caryophyllene is known for it's wide variety of potential health benefits both physically & mentally. This terpene has a unique ability to bind to the CB2 receptors; CB2 receptors are targeted when treating pain & inflammation with cannabis. Beta-caryophyllene is also approved for use in food by the FDA & is commonly found in black pepper, cinnamon, & basil.
Aromas
SharpSpiceSweetPepper
Potential Health Benefits
Anti-depressionAnti-inflammatoryCancer FightingPain ReliefGastrointestinalAnti-anxietyAnti-diabetic
Humulene
0%
Humulene
0%
Commonly found in ginseng, ginger, & hops, Humulene is known to lend its robust characteristics to the different scents of cannabis. This terpene has been used in holistic practices for hundreds of years due to its strong anti-inflammatory properties. Humulene has also been reported to act as an appetite suppressant.
Aromas
HerbalSpiceWoodyEarthy
Potential Health Benefits
Anti-inflammatoryCancer FightingAppetite Suppressant
Limonene
0%
Limonene
0%
Limonene is found in citrus rinds and is the second most commonly occurring terpene in nature. This terpene has been used in high dosages as a catalyst in topical products to allow other chemical compounds to pass through the skin for absorption in the blood.
Aromas
CitrusLemonHerbal
Potential Health Benefits
Cancer FightingAnti-anxietyAnti-depressionStress ReliefBrain FunctionGastrointestinalAnti-inflammatory