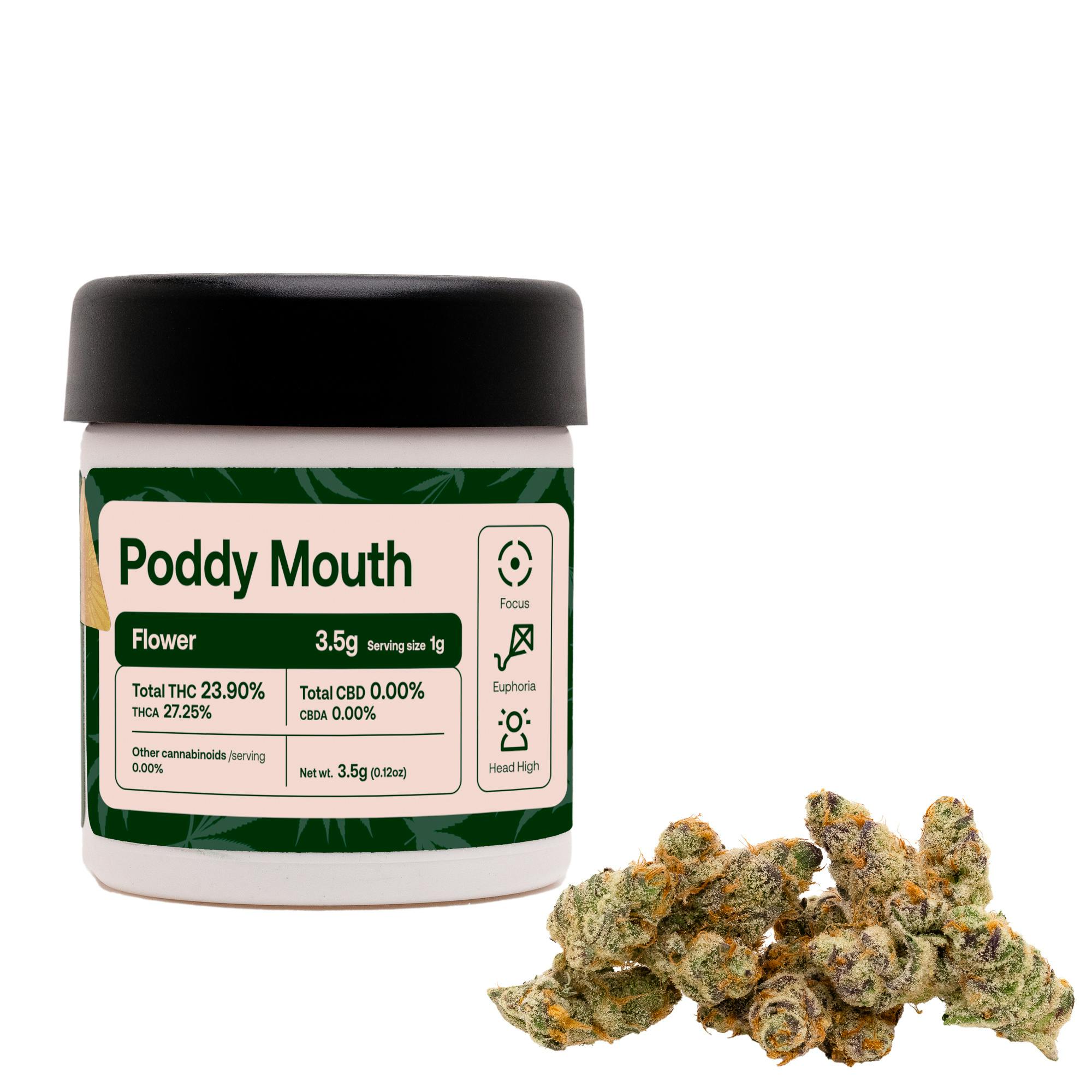 Brand: MFNY
MFNY | Poddy Mouth | 3.5g
Expertly grown in climate-controlled greenhouses and harvested using techniques that maximize terpene preservation, MFNY is excited to offer Poddy Mouth. This strain earned its name from its spectacular trichome-covered pods. Its unique bud structure stood out so much that it became an instant fan-favorite. Poddy Mouth has a distinct scent and taste of earthy and savory flavors. It offers a special type of high that energizes the body while elevating the mind. Between its dazzling pods, funky flavors, and pleasantly balanced effects, Poddy Mouth is a great get-up-and-go strain for any time of the day. Lineage: Humboldt Pound Cake x Mountain Top Mint".
Effects:"Euphoric, Relaxed. Main Terps: "Terpinolene Caryophyllene Myrcene"
Effects
CalmHappyRelaxedEnergetic
View Product Testing Data
Terpinolene
0%
Terpinolene
0%
Terpinolene is a cannabis terpene with strong aromatic properties which makes it a popular ingredient in perfumes, lotions & soaps. While this may not be a prevailing terpene such as myrcene or linalool, it still has the potential to positively effect the endocannabinoid system through its numerous potential health benefits. Also found naturally occurring in apples, tea trees & sage.
Aromas
CitrusWoodySpice
Potential Health Benefits
Cancer FightingSedativeStress ReliefAnti-anxiety
Caryophyllene
0%
Caryophyllene
0%
Caryophyllene, or more specifically Beta-caryophyllene is known for it's wide variety of potential health benefits both physically & mentally. This terpene has a unique ability to bind to the CB2 receptors; CB2 receptors are targeted when treating pain & inflammation with cannabis. Beta-caryophyllene is also approved for use in food by the FDA & is commonly found in black pepper, cinnamon, & basil.
Aromas
SharpSpiceSweetPepper
Potential Health Benefits
Anti-depressionAnti-inflammatoryCancer FightingPain ReliefGastrointestinalAnti-anxietyAnti-diabetic
Myrcene
0%
Myrcene
0%
One of the most common terpenes found in cannabis. Myrcene is known to increase the effects of the psychoactive properties of THC in addition to some of the health benefits found in CBD. Commonly found in parsley, mangoes & hops, Myrcene is a good option for those looking to add a little relaxation to their overall experience.
Aromas
ClovesEarthyMusk
Effects
Comfort
Potential Health Benefits
Anti-anxietyCancer FightingAnti-inflammatorySedative
THCA (Δ9-tetrahydrocannabinolic acid)
27.25%
THCA (Δ9-tetrahydrocannabinolic acid)-27.25%
THCA is a cannabis compound with a laundry list of potential mental and physical health benefits. THCA is the non-psychoactive precursor to THC, the most famous cannabinoid of all. While THC is responsible for the psychoactive "high" that so many of us enjoy, THCA has shown great promise as an anti-inflammatory, neuroprotectant and anti-emetic for appetite loss and treatment of nausea. THCA is found in its highest levels in living or freshly harvested cannabis samples. For this reason some users choose to juice fresh cannabis leaves and flowers to get as much THCA as possible.