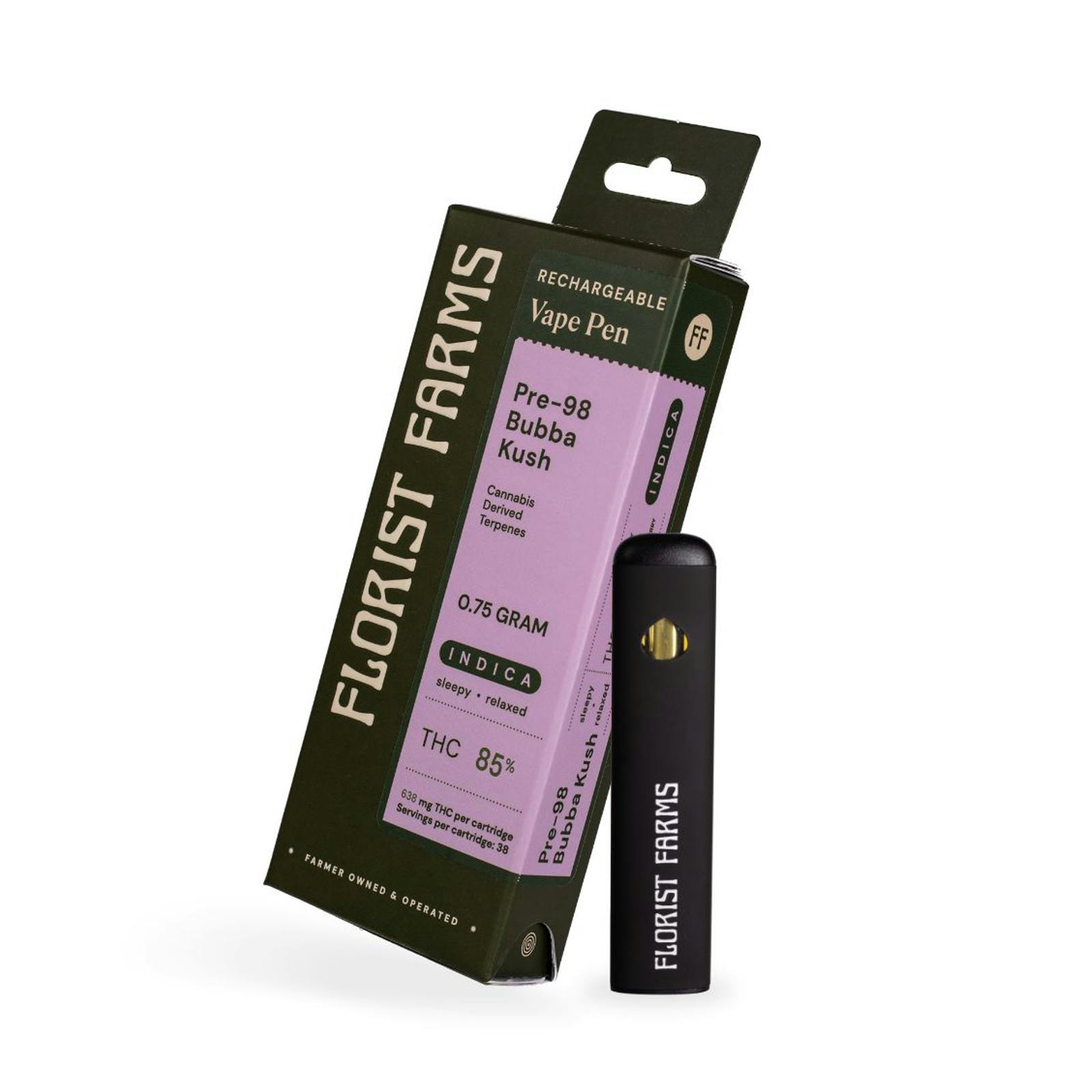 Brand: Florist Farms
Pre-98 Bubba Kush | Rechargeable Vape | 0.75g
Enjoy a classic indica experience, chill and relaxed with a heavy body feeling. The cannabis-derived terps provide a fruity, skunky, berry-forward taste. Dominant Terpenes: Limonene – bright and citrusy flavor with uplifting effects β-Myrcene – earthy and citrusy flavor with relaxing effects β-Caryophyllene – peppery flavor with relaxing effects The iSpire hardware is slim to discreetly fit in your pocket or purse, pre-charged, and ready to roll. The heavy, high-quality material feels good in your hand and produces a smooth, full hit that lasts. Requires a micro-USB cable to recharge (not included). Don't forget to take the sticker off the bottom to operate. Florist Farms is a New York brand made by and for New Yorkers. Their farm in Cortland, NY is where they grow and manufacture all of their products with decades of organic farming experience.
Effects
HappyRelaxedSleepy
View Product Testing Data
Limonene
%
Limonene
%
Limonene is found in citrus rinds and is the second most commonly occurring terpene in nature. This terpene has been used in high dosages as a catalyst in topical products to allow other chemical compounds to pass through the skin for absorption in the blood.
Aromas
CitrusLemonHerbal
Potential Health Benefits
Cancer FightingAnti-anxietyAnti-depressionStress ReliefBrain FunctionGastrointestinalAnti-inflammatory
Beta Myrcene
%
Beta Myrcene
%
beta-Myrcene a.k.a. Myrcene is one of the most common terpenes found in cannabis. Myrcene is known to increase the effects of the psychoactive properties of THC and enhance the health benefits found in CBD. Commonly found in parsley, mangoes & hops, Myrcene is a good option for those looking to add a little relaxation to their overall experience.
Aromas
EarthyMuskCloves
Potential Health Benefits
Anti-inflammatoryCancer FightingPain Relief
Beta Caryophyllene
%
Beta Caryophyllene
%
Beta-caryophyllene is known for it's wide variety of potential health benefits both physically & mentally. This terpene has a unique ability to bind to the CB2 receptors; CB2 receptors are targeted when treating pain & inflammation with cannabis. Beta-caryophyllene is also approved for use in food by the FDA & is commonly found in black pepper, cinnamon, & basil.
Aromas
SharpSpiceSweetWood
Potential Health Benefits
Anti-inflammatoryGastrointestinalCancer FightingAnti-depressionAnti-anxietyPain ReliefBrain FunctionAnti-diabetic
About the brand :
Florist Farms
Florist Farms is on a mission to make the world a better place. They grow cannabis using regenerative farming techniques, which means they use healthy soil, cover crops, compost, and no chemical pesticides or fertilizers.