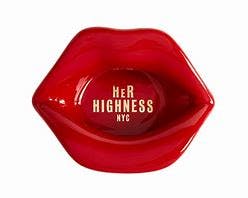 Brand: HER Highness
Her Highness Lip Ashtray
For a ceramic ashtray that doubles as a glamorously kitschy statement piece, look no further. Her Highness' red Lip Service ceramic ashtray stylishly keeps your ash contained while adding a pop of color to your coffee table. We liken the color of these smooth, glossy red lips to MAC's Russian Red lipstick – originally formulated by the beauty brand for Madonna to wear throughout her 1990 Blonde Ambition tour. The perfect red lip, stamped with Her Highness NYC in gold foil inside the mouth. Mwah!
About the brand :
HER Highness
We are the premier purveyors of female forward Cannabis Couture – products and potions inspired and engineered by Women.
We design and deliver experiences that elevate and celebrate women. Her Highness products are thoughtfully and stylishly designed through the female lens. Working harmoniously with the female body. From highly coveted packaging, to striking the perfect balance of smart, sexy, and witty to describe each product and experience, Her Highness is your trusted girlfriend in cannabis.
Our products are made from premium materials that deliver a clean experience you can trust. We use naturally derived ingredients; never any parabens, sulfates, phthalates or aluminum.